Overview
Global coal mining industry outlook: Slowing global economic growth especially in China coupled with a trend change towards cleaner energy has limited global demand for coal products.
What are key statistics in the US coal industry?
Key Statistics 2015:
Revenue: $34.8 billion
Annual Growth Last Five Years: -4.1%
Projected Annual Growth Next Five Years: 5.8%
Industry Profit: $2.2 billion
Exports: $7.7 billion
Number of businesses: 1,276
Who are the key market leaders in the US coal industry?
Key Market leaders:
Peabody Energy Corporation: 10.3%
Alpha Natural Resources: 8.0%
Arch Coal Inc. 7.6%
Consol Energy Inc. 4.8%
What are the products being sold in the US coal mining industry? What percentage of each type makes up the market?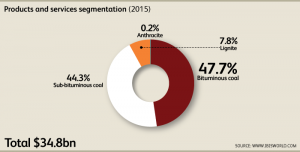 Products and Services Produced or Offered:
47.7% Bituminous coal
44.3% Sub-bituminous coal
7.8% Lignite
0.2% Anthracite
Mining method: underground or surface pits
What are the key industry drivers in the US coal mining industry?
Key Industry Drivers:
Global steaming or thermal coal price
Consumption of electricity
Global coking coal price
China GDP
Real broad index: Strength of US dollar relative to other currencies
What is the industry's structure?
Industry structure:
Industry life cycle is mature. Reason: 1) Unfavorable environmental litigation 2) Industry consolidation 3) well-established product
Volatility of revenue is medium. This is dictated by global coal prices, total coal production, and global demand.
Capital intensity is medium. Requires extensive capital to buy coal yielding land, develop coal mine, and buy specialized equipment (e.g. coal washing plants, draglines, and longwalls. Capital expenditure increases with increases in global coal prices and vice versa.
Industry Assistance is very low and exists in the form of government support, tax incentives or financing for cleaner coal technology.
Market Share Concentration is low. The four largest coal producing companies in the US make up 30.7% of industry revenue and this amount is expected to increase with increasing M&A activity as the industry consolidating.
What is the level of regulation or policy in the industry?
Regulation and policy level is high with a steady trend going forward.
1) Health and safety (Federal Coal Mine Health and Safety Act of 1969, Federal Mine Safety and Health Act of 1977, Mining Improvement and New Emergency Response Act of 2006, Coal Industry Retiree Health Benefit Act of 1992)
2) Coal Leases (companies competitively bid for coal leases with Bureau of Land Management assessing the bids based on the coal market fair value)
3) Environmental regulation The Coal Industry is heavily regulated under various government agencies such as US Environmental Protection Agency (Clean Water Act, CERCLA, RCRA), US Army Corps of Engineers (navigable water activity regulation), and US bureau of Alcohol, Tobacco and Firearms (explosives blasting) and environmental acts (Clean Air act to regulate air emission, and the Clean Air Interstate Rule in eastern US to cap sulfur dioxide and nitrous oxide emissions).
What is the rate of change of technology in the industry?
Technology change is medium. Black coal production is made up of 69.0% open cut mining operation and 31.0% underground mining operation. Open pit mining is a surface mining technique to uncover coal by removing soil using draglines, and then extract using extraction equipment and mining trucks. Increasing productivity using this method has allowed greater adoption over time. Underground mines use either the room and pillar mining method (account for 25% of coal production with 55.0-65.0% efficiency for coal extraction) or the longwall method (80.0% efficiency for coal extraction).
What are the barriers of entry for new entrants entering the industry?
Barriers to Entry are high and are considered steady going forward.
What is the amount of capital expenditure required?
Large capital expenditures in the hundreds of millions are needed to bring a new mine into commercial production. Environmental regulation, environmental approval and licenses and leases are needed to operate a mine. Favorable contracts needs to be obtained from coal buyers.
What is the level of globalization in the industry?
Globalization in the coal industry is high with a steady trend with international trade of coal being a strong determinant as well as operation of coal mines in foreign countries (e.g. Rio Tinto).
What is the level of industry competition?
Industry competition is high and increasing. Coal is a commodity and is based on price. Factors that determine the price is the price of coal + shipping cost as well as coal quality with coal that contain lower amount of impurities fetching a premium price while those with high impurities such as sulfur is sold at a discount to market. Thermal coal price is dependent on the calorific value which indicates heating power with higher calorific value yielding higher price. Metallurgical coal or coking coal used in iron and steel making places a higher price on higher carbon content.
Key Industry summary diagrams 
2015 Major market segmentation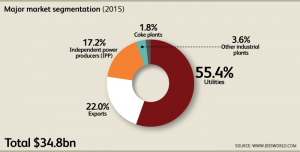 Industry cost structure