Overview
The carriers in the Canadian wireless telecommunications industry provide telecommunication services via transmission facilities they control to mobile users. Revenue in this industry is generated via data services, equipment sales and voice telephony services. The industry has greatly expanded over the past five years with the increased adoption of mobile devices and tablets. The Canadian telecommunication market is an oligopoly with the top three players Rogers, Telus and Bell Canada controlling 96.6% of the market. With the deep penetration of mobile devices as well as the wide adoption of 4G network, revenue is expected to grow 1.7% annually over the next five years to 2020.
Key External Drivers
Adults 20-64 years old have wider smart phone usage adoption using a high profit margin data usage heavy plan. The number of adults 20-64 years old is expected to increase.
Corporate profit is expected to decrease in 2015 and going forward due to the stagnant economy and dropping crude oil prices which will inhibit large scale spending to invest in technology and to build infrastructure.
Mobile phone subscription number directly correlates with industry revenue. As the number of subscribers increase, industry revenue will increase which is what happened in 2015.
Per capita disposable income is how much income Canadian can spend on wants after needs are paid for. If per capita disposable income increases, Canadians have more money to spend and vice versa. Disposable income is expected to increase in 2015.
2015 Product segmentation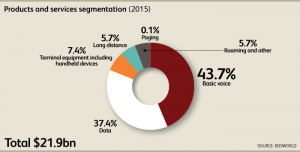 Basic voice services make up the majority of industry revenue at 43.7% and this percentage is expected to decline as voice traffic is transmitted as data via the 4G network.
Data make up 37.4% of industry revenue and has grown significantly over the past five years and will continue to do so going forward to the year 2020. Smart phone users have twice the monthly billing amount compared to voice only users. Increased smart phone and tablet penetration has increased data usage which earned industry participants increased revenue.
Terminal equipment makes up 7.4% of industry revenue. The transition of cell phones to smart phones which act as personal mini computers has greatly increased the price that consumers pay with the newest basic version of the iPhone costing upwards of $600+ each. However, telecommunications companies have subsidized this cost with two year fixed plans which meant that revenue earned from equipment have remained relatively stable.
2015 Market segmentation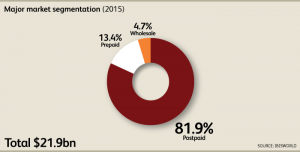 Postpaid services provide a steady revenue stream and consists of 81.9% of revenue as subscribers pay monthly and are locked into contracts as long as two years. Users are consumers and businesses who typically use data heavily.
Prepaid services target price sensitive demographic who have large fluctuations in cell phone usage including a younger demographic with limited funds such as the Fido brand under Bell or the Koodo brand under Target.
Wholesale services are sold to virtual operators who piggyback on the network built by the major players.
Industry structure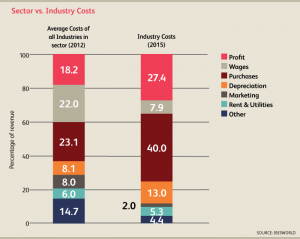 Profit: Telecommunications is a very capital intensive industry which requires very high upfront fixed cost to build the wireless network infrastructure and the marginal variable cost of each additional customer is only the cost of marketing and customer service with a large portion being profit. As the customer base increases, fixed cost is distributed to a larger customer base which lowers the fixed cost allocated to each customer. Subsidies provided to customers for expensive mobile phones that sign up for two year plans has put pressure on profit margins in the short term. Profit in 2015 is expected to be 27.4% of revenue.
Wages have decreased to 7.9% of revenue as a shift from high salary technical workers to lower paid customer service and sales representatives to grow and to provide service for the customer base.
Purchases is the largest expense and make up 40.0% of revenue as billions are spent to provide smart phone subsidies to lock in customers to long term phone contracts and to purchase wireless spectrum in government auctions.
Depreciation accounts for 13.0% of revenue due to the high cost of building wireless network infrastructure, medium useful life, and advances in technology which results in lower reselling value.